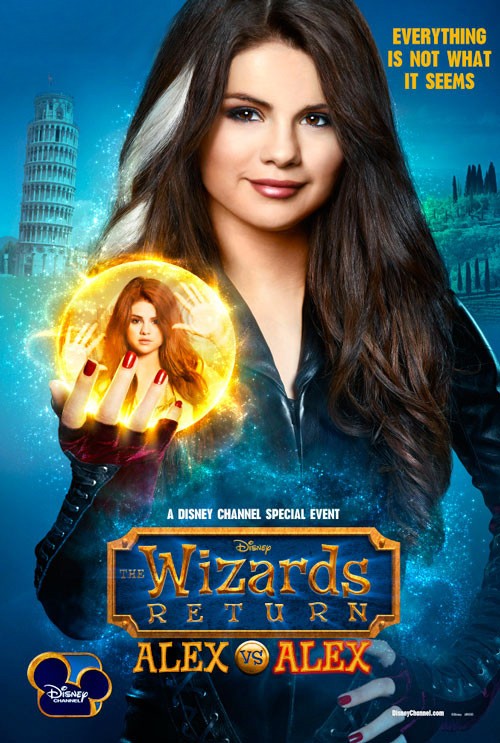 "The Wizards Return: Alex vs. Alex" is a Disney Channel Special Event based on the TV series Wizards of Waverly Place. It is the sequel to "Wizards of Waverly Place - The Movie" which premiered on March 15th 8pm ET/PT on Disney Channel.
TriviaEdit
Selena Gomez co-produced this special, she wanted the chance to become Alex one more time because she missed playing her.
Even though Justin Russo (David Henrie) didn't appear in the special, he was mentioned a few times and Alex tried to call him at Wiz Tech for his help but he was unavailable, he was also seen in the family photo in Alex's bedroom. With that, Alex Russo (Selena Gomez) is the only main cast member to appear in every episode of the series, as well as the movie and this special.
Nikki Hahn guest stars as one of the wizards-in-training as Alex's cousin.
It was revealed that Gorog had a wizard or angel nephew named Dominic.
This marks the final appearances of Alex Russo, Max Russo, Jerry Russo, Theresa Russo, Harper Finkle and Mason Greyback.
Alex (Good) is the only one seen casting spells in this episode, seeing as Justin wasn't in this episode, and Max lost his powers due to losing the Wizard Competition.
This is the second & last time Mason has shown excellent culinary (cooking) skills, only to be rejected. The first case being at the beginning of "Wizard of the Year" where he makes his grandmother's traditional crumpets which the Russos unanimously dislike & Chancellor Rootie-Tootietootie calls English muffins. Coincidentally, both dishes were cooked in 2 hours.
This marks the first time since Wizards vs. Werewolves that Mason goes full wolf twice in one episode.
Only people/creatures from one family have been killed in the Wizards of Waverly Place series. From that family are Gorog and Dominic. Disney clarified that Stevie did not die in The Good, The Bad and the Alex. She was sent to an island in the Wizard World.
This is the second episode that Alex has used magic to change personality; Positive Alex being the first episode, when she used the magic marker.
This the second time that Wizards Of Waverly Place has had a TV-PG rating, the first time was in Wizards vs. Werewolves. This is also the second time that a character has been killed (or at least intentionally) on screen.
This is the first time that a Disney Special (which is unsual for a Disney Show) has used the word "Death," or even implied it directly.
This special got 5.9 million viewers on its premiere night
It is unknown if Harper and Zeke are still together since Harper mentions multiple times that Dominic is good looking. She even says in one scene "Fine, I won't date him," implying that she and Zeke perhaps broke up.
Bad Alex somewhat resembles Jade from nickelodeons Victorious.
Differences between other episodesEdit
The Sub Station and Lair are not shown in this special.
The appearance of flashing out was changed in this special.
David Henrie does not appear, though Justin Russo is mentioned.
The lighting has become darker and warmer.
Max's hair is shorter and neater than before.
Max's voice is noticably deeper in this special.
The intro song is neglected.
This is the only episode where one of the Russo kids (Max) is mortal throughout the entire episode.
Magical effects have also been amped up, including CGI, and scene changers,